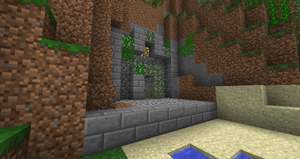 Temple of Death is a dungeon in which the players need to fight their way out of a small temple.
Dungeon Info
Edit
Mobs: Zombies, Pigmen, Skeletons, Cave Spiders, Spiders, Blaze
Cooldown: 30 minutes
Players: 1 - 5
Player Lives: 1
Location: x: 66, y: 64, z: 501
The Temple of Death is an old abandoned castle buried deep in a jungle.
There is one chest at the end that contains some items and then 3 random drops. The full item drops are listed below.
Chest:
100% 32 Arrows
100% 32 Stone Brick
100% 32 Mossy Stone Brick
100% 3 Steak
100% 3 Iron Ingot
100% 2 Blaze Rod
100% 1 Potato
100% Drop 1
100% Drop 2
100% Drop 3
Drop 1: (Only one item drops)
22% Leather Tunic (Protection II)
11% Leather Pants (Projectile Protection III)
11% Leather Boots (Feather Falling II + Projectile Protection II)
11% Leather Cap (Protection II + Respiration I)
11% Iron Helmet (Protection II)
11% Iron Leggings (Protection IV)
11% Iron Chestplate (Protection I)
11% Iron Boots (Protection II)
Drop 2: (Only one item drops)
11% Iron Sword (Sharpness IV)
11% Iron Sword (Sharpness I + Knockback I)
11% Iron Sword (Knockback I)
11% Iron Sword (Knockback I + Bane of Arthropods I)
11% Iron Sword (Smite II)
11% Bow (Power I)
11% Bow (Power II)
11% Bow (Power III)
11% Diamond Sword (Sharpness I)
Drop 3: (Only one item drops)
11% Leather Tunic (Protection III)
11% Leather Pants (Fire Protection I)
11% Leather Pants (Protection II)
11% Leather Boots (Protection I)
11% Leather Cap (Protection II + Respiration II)
11% Iron Helmet (Blast Protection III + Aqua Affinity I + Respiration II)
11% Iron Leggings (Projectile Protection II)
11% Iron Chestplate (Thorns I)
11% Iron Boots (Fire Protection II + Feather Falling III)