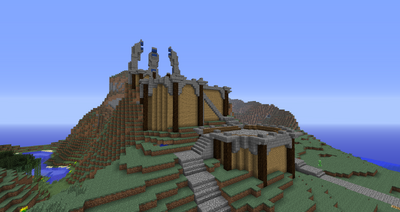 Salvudomus is a central city that is undergoing heavy construction. It is the place where dungeons exit to and the player has a choice of teleporting to other cities. Salvudomus is owned and built by Archon and its representative colour is cyan.
Buildings
Edit
The portal is atop the city overlooking the rest of it, it has teleports leading to spawn and Trottingsdale.
This is currently under construction. The Graveyard of Heroes is a field of statues dedicated to the notable members that have passed through the realm such as Stor.